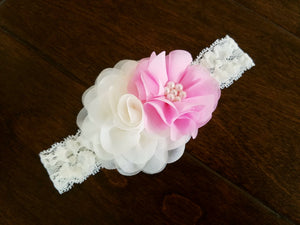 Adorn your little princess in our pink and ivory headband. Featuring two pink and ivory chiffon flowers boasting a cluster of pearls all attached to a vintage ivory lace elastic.
Perfect for Newborn photos, flower girl headband, cake smash headband, birthday headband, baby shower gift or just because.
Available in sizes from Newborn to Adults.
Please select desired size from drop-down box at checkout.
Headband sizes:
Newborn: 13 Inches
0-3 Months: 14 Inches
3-6 Months: 15 Inches
6-12 Months: 16 Inches
12 Months to Teen: 17 Inches
Adult: 18 Inches
🎀Follow us on Instagram @adassarosekids
Tags:
Newborn Headband
Flower Girl Headband 
Smash Cake 
Smash Cake Headband 
Birthday Headband 
Pink And Ivory Headband 
Pink Headband